Discover Our CoWorking spaces Featured Listings
Looking for coworking spaces that inspires productivity and creativity? Discover EZSpaces' featured
co-working listings across India and join a work culture of like-minded professionals
who are taking their businesses to the next level.
Ready to customize your space
EZ Interior, a subsidiary of EZ Spaces, excels in residential and commercial interior design. With a team of skilled designers, they transform spaces into personalized, innovative, and stylish environments. From concept to execution, clients can expect a seamless and hassle-free experience, making EZ Interior a top choice for exceptional interior design solutions.
Contact us to get your Best Office spaces!
EZSpaces offers a range of coworking and private office spaces on rent to meet your specific needs, including private offices,
dedicated desks, flexible desks, and virtual offices. Our spaces are designed to enhance productivity and collaboration,
with modern amenities and customizable options, we make it easy for
you to find a workspace that suits your business.
Why Choose EZSpaces commercial office spaces?
Choose EZSpaces for affordable commercial and private office spaces with strategic locations across India, ensuring easy accessibility.
Our spaces are designed with privacy and security in mind, allowing you to work without distractions.
With transparent pricing and no brokerage fees, get the best value for your money.
Try our work spaces for free with a 15-day trial (conditions apply).
Full Floor Office Spaces
Searching workspaces? We got you! Our strategically located spaces across India offer privacy, security, networking opportunities, and the best prices for full floor office spaces on rent, all with a transparent pricing policy.
Customised Executive Cabin
We at EZSpaces understands that every business has it's unique needs, and that's why we offer customizable office space options that can be modified as per your demand.
Flexi-Desk
We offer flexible desk options for those who prefer to work on-the-go. Our full flexible desk options will provide you a comfortable and dynamic workspace, allowing you to work from anywhere.
Made to order HQ set up
Enjoy the vibrancy of our shared spaces with your choice of individual desk plans. Experience the dynamic atmosphere of our shared workspaces with our flexible individual desk plans at EZSpaces.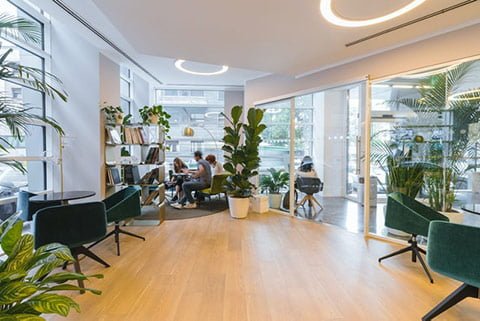 Private Office
EZSpaces offers a range of private office options at affordable prices, along with a variety of amenities. Enjoy the flexibility and convenience of our private office spaces and enhance productivity.
Dedicated Desk
EZSpaces offers dedicated desks for individuals or teams who prefer a permanent workspace. With our dedicated desk option, get your own personal space in our vibrant coworking community.
Modern Conference Rooms
At EZSpaces, we offer modern and elegantly designed conference rooms that enhance professionalism and creativity, inspiring your team to achieve their goals.
F&B + Full Stationary
Our co-working spaces are equipped with F&B facilities to ensure you can take a break and recharge yourself. Additionally, we provide full stationary so you don't have to worry about anything.
Our Cowork Locations (National)
Our coworking spaces are designed to cater to the needs of individuals and teams of all sizes.We offer flexible and
affordable office space solutions to help businesses thrive. Our workspaces are equipped with modern
amenities, including high-speed internet, printing facilities, and conference rooms.
Benefits of setting up your sustainable start-up in our coworking creative space
Networking is much easier in a coworking space. You can connect and find individuals with creative capabilities that match your needs. Coworking space is known to be a fulfilling space for those who are in constant need of new talent, which explains how it can come in handy for any start-up!
"We were looking for an office space for the last 8 months, but we just couldn't find any place that suited our requirements and boosted our productivity as EZspaces did. When we first got in touch with EZspaces, they instantly gave us various options to choose from. We were able to find the perfect office for our business within 3 days. EZspaces has unbelievably fast service and good things to offer."
"Being a SoftTech company we were looking for an office space that fulfils all the conventional requirements, however because of the location we chose, it was quite difficult. We came across EZspaces and they managed to resolve this obstacle for us. They came up with a few of the best options for office space in the area and we loved the one we are presently working from. The best part was that all of the options were affordable and perfectly fit into our budget. So glad to have found EZspaces."
"For Finbots, we wanted a space that fits our imagination of a creative studio and maximizes our creativity. We came across EZspaces and were in touch with them for almost 3 months. After going through multiple choices of office space we finalized on a space they had presented us that was perfect and in fact costed us less than our approved budget. I was astonished how good their service is and how they focus on customer satisfaction more than anything. It was clearly showing. Great job!"
"We were looking for an office space for the last 8 months, but we just couldn't find any place that suited our requirements and boosted our productivity as EZspaces did. When we first got in touch with EZspaces, they instantly gave us various options to choose from. We were able to find the perfect office for our business within 3 days. EZspaces has unbelievably fast service and good things to offer."
Coworking Spaces Latest Office Updates